Swimming Pool Removal Melbourne & Geelong
Swimming pools can offer a great respite from the unforgiving Melbourne heat, but they also take up a lot of space & require substantial resources for maintenance. Moreover, recent government legislation around pool fencing requirements has tightened; thus, most pools built before the passed legislation do not measure up to the current standards.
With increasing maintenance costs, several homeowners in Melbourne are opting for filling in to utilise their backyard space better. The process of filling in or removing an existing pool is known as Pool Removal or pool reversal. It is a challenging process that requires long hours of manual labour. But you don't have to worry because that is where we come in!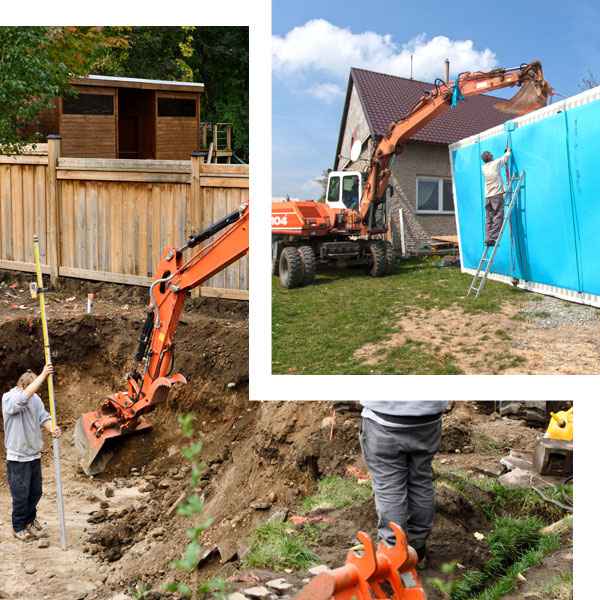 P & S Concrete Removal will undertake the job of "filling in" or "removing" your pool for you. Moreover, our experts will also help you convert the filled space into a beautiful lawn or garden space. We combine top-of-the-line equipment with our longstanding expertise to provide Pool Removal services across Melbourne.
We understand that concrete is heavy, and transporting and disposing it is inconvenient. We not only take care of your pool filling & restoration needs but also take care of disposing of the concrete debris at the end.
Many of our clients wish to fill their pools to utilise them as a lawn or extend their garden space. It is a lengthy process that requires expertise & training. At P & S Concrete Removal, we have the experience, equipment and expertise to tackle the job efficiently, effectively, and safely.
Inground pool removal can be a big project, but it can also have a big impact on your property. Before the removal process begins, the pool will be drained and any necessary permits will be obtained. After the pool is removed, the area will be filled in and leveled with soil.
For commercial pool removal, it is important to hire Company, We have experience in the field and proper equipment.
What Can You Expect When You Hire Us?
At P & S Concrete Removal, our team of experts has experience in dealing with Pool Removall services of all types & sizes. We have a comprehensive approach to all our services & your concerns, doubts & questions about your project are our top priority. Here's what you can expect when you hire our services.
Consultation
Our experts will visit for a detailed inspection of your pool. Following this, we provide an overview of the project, the expected time frame and the costs involved. We'll also present you with a quote that covers all of this information.
Pool Filling
After we've agreed on the details of your requirements, our team will start the filling process. We drain the pool (if necessary), and depending on your specifications, we fill or restructure it.
Concrete Removal
At the end of the filling process, our experts remove the debris and take it away for safe disposal. Most of this debris is recycled, and the rest gets disposed of according to safety standards.
Renovations
After filling & clearing the debris, we'll renovate the space according to your specifications. Some of our clients wish to expand or upgrade their pools, while others want to do away with them.
Clean-Up
After the renovations are complete, our team performs a final clean-up, before we deliver the finished project, as per your requirements and specifications.
Pool Removal & Demolition Services
Removing your pool can help you cut back the maintenance costs significantly & you can utilise the freed-up space for a lawn or a garden. However, Pool Removal is a complicated process that involves not only filling the pool but also renovating it so you can utilise the filled space.
At P & S Pool Removal Services, we provide our clients with a wide range of affordable and effective Pool Removal and filling services. Our experts provide clients with highly customised services that suit their needs perfectly. We operate out of Melbourne & we work with all commercial & residential clients across Melbourne.
Our experts have extensive experience working with Pool Removal services of all types. Some of our services include:
Inground Pool Demolition and Removal
Make the best out of your backyard space by removing your inground pool. However, it is not as easy as it sounds, and you must employ experts with extensive knowledge and experience.
Most homeowners opt for this service when they no longer need their pool or maintaining one has become a hassle. We offer partial and complete inground pool demolition & removal services. We can then help you restructure the space to suit your recreational needs.
inground pool removal cost? The cost of removing an inground pool can vary a lot depending on factors such as location, size of the pool, and the complexity of the job. On average, it can cost anywhere from $5,000 to $50,000 or more to remove an inground pool.
Above-ground Pool Demolition and Removal
Removing or demolishing an above-ground pool is more affordable than an inground one. The process involves draining the pool water, clearing the space, cleaning the surface area, and disposing of the debris. This space can be restructured or renovated into an upgraded pool or a patio deck.
Homeowners opt for above-ground pool demolition and removal to avoid the costs of abiding by the new pool fencing requirements or want to renovate the space completely. We can help you utilise the space by creating a fire pit area, an open space for entertaining, a patio deck, or a garden according to your needs.
Pool Decks and Patios Removal
Homeowners consider revamping and renovating their backyards to create a brand-new look and feel, increase their home's aesthetic appeal or simply because their recreational needs have changed. Depending on their reasons for undertaking such a project, we provide clients with pool decks & patio removal services.
The process requires a lot of manual labour & heavy machinery. Our experts do all the heavy lifting for you. We'll help you create a brand new look for your backyard as per your specifications & requirements so you can utilise the new space in the way you have envisioned it.
Tight Access Pool Removal
Tight access Pool Removals are complicated since it requires specialised machinery that can reach otherwise inaccessible areas. Our experts have vast experience in handling such projects with expertise & efficiency.
Contact us today for more information on any of our services or for detailed excavator hire options.
We have the training, expertise, equipment, and experience necessary to complete such projects effectively. We'll handle the uplifting, stripping, disposal, and restructuring so you can make the best out of the newly created space.
With our extensive expertise in Pool Removal services, we work with our clients to provide them with the best solutions. We combine cutting-edge technology with our experience to ensure that your project gets executed seamlessly & the entire experience is hassle-free for you.
For swimming pool demolition near you, you can search for "pool removal companies" or "above ground pool removal service" online to find local contractors. It's important to ask for references and check insurance and licenses before hiring.
We employ sustainable & environmental-friendly methods to take care of all your Pool Removal needs in and around Melbourne. Connect with us for a consultation & an obligation-free quote.
How Much Does Pool Removal Cost
The cost of removing a pool in Melbourne can vary depending on a number of factors, such as the size of the pool, the type of pool, and the condition of the pool. On average, the cost of pool removal can range from $5,000 to $15,000. Some of the factors that can affect the cost include:
Size of the pool: Larger pools will require more work and materials, resulting in a higher cost.
Type of pool: In-ground pools will typically be more expensive to remove than above-ground pools.
Condition of the pool: If the pool is in poor condition, it may require additional work, such as the removal of hazardous materials, which can increase the cost.
How Long Does Pool Removal Take
The time to remove a pool, such as inground, above ground, fiberglass, etc., typically ranges from 2 to 5 days, with an average of 3 days for completion. However, city inspections can potentially add a few extra days to the process.
It is important to note that pool removal is a complex process that requires proper planning and execution, so the time frame will depend on the company's work-flow. It is recommended to get a detailed timeline from the pool removal company like us, as We have a better understanding of the specific details of your pool and the removal process.