Tight Access Excavation Melbourne
Tight Access Excavation Services in Melbourne
Tight Access Excavation is a highly specialised process that requires specific skills & advanced machinery to dig in extremely narrow areas that are otherwise inaccessible when we try to plough manually. And therefore, only skilled professionals with extensive experience in handling such projects must be allowed to perform it.
Tight Access Excavation is usually related to construction work, such as when you want a basement or want to upgrade or renovate your existing structure. It is a more challenging procedure as compared to other earthmoving services that happen in the open air. Since the excavation happens in enclosed and often very narrow spaces, it poses a massive risk to your property.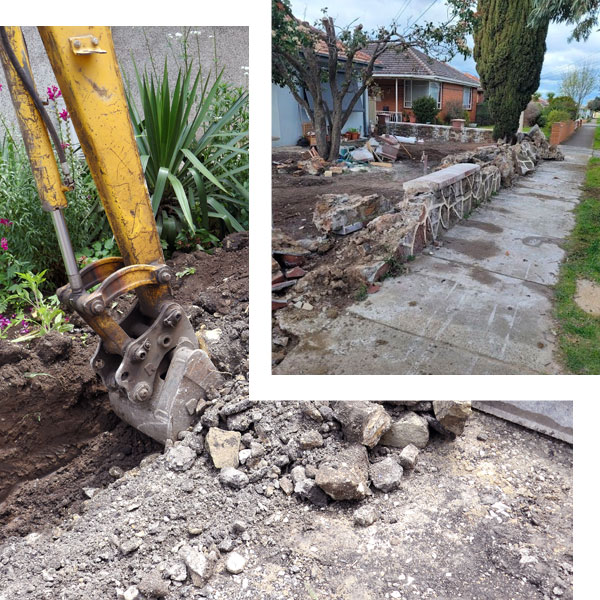 At P & S Concrete Removal, our experts have the skills & training necessary to handle the complex machinery & execute tight-access removal projects effectively and efficiently. We'll help you excavate the space & prepare it by keeping your safety in mind.
We have set high-quality standards & invest our sincere efforts into every project to ensure we exceed your expectations. Depending on the needs of our clients, our experts provide highly customised solutions because we know every project is unique.
Also, we use high-end equipment to make sure that we perform a wide range of tight-access removal projects, catering to your diverse needs and requirements.
We have earned our reputation by providing our clients with the highest quality work at competitive prices. Moreover, we walk our clients through the entire process & provide them with the necessary assistance for their tight access excavation projects, as and when required.
What to Expect When You Hire Us?
Our experts at P & S Concrete Removal have extensive expertise in dealing with Tight Access Excavation projects of all kinds. Your concerns, doubts & questions about the project are our top priority. Here's what you can expect when you hire our services.
Consultation
Our expert will visit the excavation site for an inspection as per your convenience. Following the visit, we'll send you a detailed quote outlining the procedure, the costs involved, and the expected timeline for the job.
Rough-Staking
We'll use stakes to demarcate the excavation area. It helps us identify where to excavate and what tools to use. It helps identify any trees or vegetation that needs uprooting before we can begin excavation.
Clearing/Uprooting
For a smooth & hassle-free excavation, we clear the staked area by uprooting all kinds of vegetation, trees, shrubs, etc., before starting the actual process.
Excavation
With leading-edge technology and superior equipment, our experts excavate tight access areas. You can trust us to conduct the process ably as we have been involved in tight access excavation projects for many years
Rough-Grading
After excavation, we back-fill it with some dirt to create the perfect pitch for your project. Depending on your needs, we'll also overlay the dirt layer with richer topsoil.
Narrow Access Excavation & Earthworks Melbourne & Geelong
With vast insight in narrow access excavation coupled with modern machinery to help us to execute all varieties of work. We have numerous machinery models, which our experts use to excavate the narrow areas that are difficult to reach for you.
While excavating in tight spaces, we must be mindful of the surroundings. Obstacles such as power lines and ceilings are a constant concern while performing overhead services. A slight mistake while handling the machinery can bring the entire roof down. Our experts tackle the machinery with ease & ensure that you or your property do not suffer any damage.
When performing underground services, we must ensure that we are not affecting the sewer, gas or water pipes, underground wires, fibre optic cables, or buried Telstra cables. While excavating narrow spaces, the machinery should be handled with extra delicacy since tampering with these pipes and wires can have disastrous consequences. Our experts have a cautious and comprehensive approach to such projects. They are trained to handle such situations & they take extra precautions to ensure that nothing goes wrong.
On the other hand, closed excavation occurs in indoors and confined areas. Therefore, such projects must be made with the highest degree of accuracy and precision because even a slight misjudgment can have profound consequences to the safety and functioning of the whole structure. By making use of the latest technology & high-end machinery, we complete such projects while adhering to safety precautions and protocols.
P & S Concrete Removal specialises in providing the best machinery for all your tight-access soil removal projects. Our expertise & experienced team operates the relevant equipment with proficiency and therefore your Tight Access Excavation, earthmoving activities proceed smoothly.
Mini Excavator
We use a 2-tonne mini excavator capable of moving into spaces as narrow as 980 millimetres. With the help of such precision tools, our team can dig & excavate even in difficult-to-access terrains and remove soil from the area. Moreover, the excavator's extra long arm allows it a greater reach. It makes for greater efficiency in tight-access soil removal.
Dingo Diggers
The dingo diggers are truly multipurpose tools. Our team typically uses them for digging post holes and trenches, carrying and loading dirt, and operating a variety of attachments. Their compact size allows them to be extremely useful at Tight Access Excavation sites. Despite their size, they are powerful and help in effective earthmoving in tight spaces.
Mini Bobcat
A mini bobcat or a mini track loader can work and travel to manually inaccessible and extremely tight spaces. Our experts use them for tackling soil extraction and removal in tight-access soil removal projects.
Mini Dumper
Another crucial arsenal equipment is the mini dumper. We are able to completely and load soil from the areas we can't reach manually, carry soil away in bins disposing it. Such dumpers are commonly used by our experts in narrow area excavation projects.
Contact us today for more information on any of our services or for detailed excavator hire options.
We are fully equipped with training, expert knowledge plus the right equipment and experience to conduct all manner of earthmoving projects. Trust us to take care of the up-lifting, stripping, disposal and remodeling so that you can optimise benefits from the developed area.
We are specialsed in providing quality Tight Access Excavation services to our clients because we know exactly how it is done. Combining latest technology with extensive experience, we execute your project seamlessly & on time.
Our company provides sustainable & environmental friendly approach to all your needs in and around Melbourne. Contact us today for consultation & a free quote.