Soil Removal Services in Melbourne
Connect with P & S Concrete Removal Melbourne for all your soil removal and disposal needs. We are one of the most trusted and dependable names in Melbourne. Irrespective of the size or complexity of a project, we have the expertise, machinery and technology to execute the project and exceed your expectations.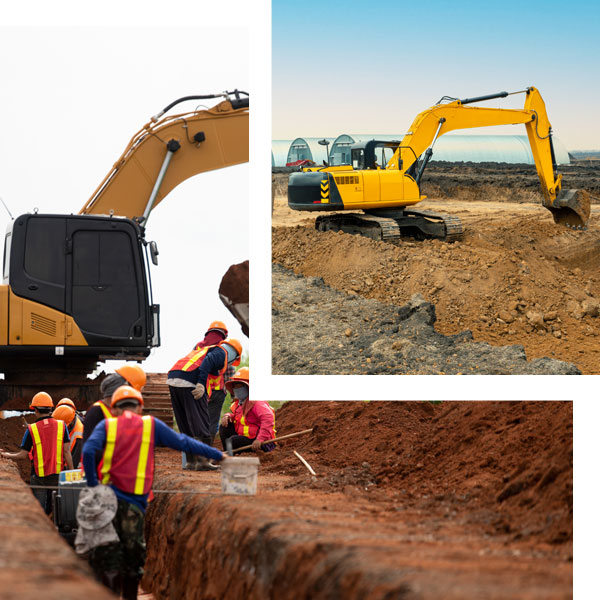 We provide our clients with a hassle-free experience since we not only remove the dirt for you but also dispose of it safely, according to the standard waste disposal procedures.
We have the equipment and the experience to tackle soil removal and disposal projects of all types and sizes seamlessly and without hassle. We have very high standards, and your safety is our top priority.
We commit ourselves to all our projects so we can meet the needs of our clients. Over the years, we have built a strong reputation and a vast client base by delivering premium services at competitive prices.
At P & S Concrete Removal, our experts have the training and the experience to deal with all types of waste disposal projects. Depending on the specifications provided by our clients, our team creates premium solutions that fit all of their requirements.
We employ sustainable and environmentally friendly methods to take care of all your soil removal and disposal projects in and around Melbourne. Get in touch with us for a consultation with our experts for your soil removal and disposal projects in Melbourne. Our experts will visit your site for an inspection on a date of your choice and provide you with an obligation-free quote.
What to Expect When You Hire Us?
At P & S Concrete Removal, our team has the expertise and experience to tackle all types and sizes of soil removal and disposal projects. Our experts have a comprehensive approach to all our projects. Your questions, queries, doubts, and concerns are our top priority. Hence, we maintain transparency in all our methods. Here's what you can expect when you hire us to work for you.
Consultation
Our experts visit the site, on a pre-appointed date, for a thorough inspection. Following this, we provide you with a detailed quote and an expected timeline for the soil removal and disposal project.
Removing
The next step in the process is soil and rubbish removal. Depending on the size and type of the project, we use various tools and equipment for effective waste removal. Our team is very skilled and we employ the latest technology in dirt removal to ensure that we do not miss out on anything in this process.
Uplifting
The rubbish removed is heavy and therefore inconvenient to move manually. Moreover, some of the waste recovered can be toxic and thus require special handling. Our experts use specialised machinery to uplift the rubbish and send it for segregation.
Segregation
Depending on the nature of the waste, we segregate it. Instead of sending the waste directly to a landfill, we try to recycle as much collected waste as possible. We then send away the rest of it for proper disposal.
Transporting and Disposal
We employ sustainable & environmentally friendly methods for waste disposal. And we try to recycle most of the waste we recover. All the recyclable waste is sent for further processing, and what cannot be recycled is sent for disposal.
At P & S Concrete Removal, we combine our extensive knowledge of soil removal and disposal and high-end machinery to tackle all kinds of projects. Our experts have a wide range of machinery at their disposal to offer various premium waste removal services at competitive prices. Give us a call today for a quote of soil removal per m3.
We have the machinery and the technology to remove dirt of any kind. We have specialised machinery that can reach narrow areas, and clear up the area for you. We also take care of the dirt collected and recycle/dispose of them properly, so you don't have to worry about a single thing.
Our experts also service Geelong and are competent in dealing with all types of waste removal services. If you want the dirt, rocks, vegetation, unwanted soil and clay around your property, we can help you with that. We implement top-of-the-line equipment that allows us to work across different types of terrain efficiently so we can deliver your project on time.
Contact us today for more information on any of our services or for detailed excavator hire options.
At P & S Concrete Removal, we have built our reputation by attending to all our client's needs. We provide them with affordable services that exceed their expectations. Apart from soil removal and disposal services, we also offer a wide range of concrete removal and excavation services. Our extensive experience has taught us that the needs of each client are unique. And hence every project requires solutions that are customised to suit their specific requirements.
Concrete Removal
Over the years, we have built our reputation as one of the leading providers of premium concrete removal services at affordable prices. We use high-end machinery and employ the latest technology for concrete removal to ensure that the outcome exceeds your expectations. Our experts have extensive experience in dealing with breaking, uplifting and disposing of concrete from projects of all types and sizes.
Tight-Access Excavation
Tight-access excavation is a construction procedure often performed when you want a basement or install new upgrades or renovate your existing space. Since it involves excavating enclosed areas, it requires specialised machinery and highly skilled professionals. Our experts have a comprehensive and cautious approach to tight access excavation. We handle the projects efficiently and effectively and maintain all safety protocols to ensure your safety.
where can i dump soil for free
In Melbourne, there are a few options to consider for disposing of dirt for free:
Contact your local council.
Look for construction or landscaping companies in your area. They may be able to use it for their own projects.
Check with local community gardens or park groups, they may be willing to accept the dirt.
Keep in mind that it's important to check with the appropriate authorities before disposing of any materials and ensure that it's legal to dump dirt in the area where you're considering doing so.
In Melbourne, there are a few options to consider for disposing of soil for free:
Contact your local council, they may have designated areas where residents can drop off small amounts of soil at no cost or they may have a pick up service.
Some waste management facilities may accept soil for free, but you should check with them first.
soil removal cost per m3 Melbourne
The cost of soil removal in Melbourne can vary depending on factors such as the amount of soil to be removed, the distance it needs to be transported. On average, the cost can range from $50 to $150 per cubic meter. It is best to get a quote from a professional removal company for an accurate estimate.