Soil Removal and Disposal Services in Geelong
Are you a property manager, contractor, or builder looking for soil removal services in Geelong? At P & S Concrete Removal, we are proud to offer you a wide variety of soil and dirt removal and disposal services in Geelong and the surrounding suburbs.
Whether it is a landscaping project, property development, or large-scale construction, we provide an easy and efficient way to dispose of the extra waste and soil on your property. Our team is dedicated to ensuring that we create a hassle-free experience so you can carry on with your project and meet your deadlines appropriately. In this direction, we use the latest equipment and techniques to remove all debris from your property. We then segregate the debris and, based on its nature, send it off for recycling or disposal.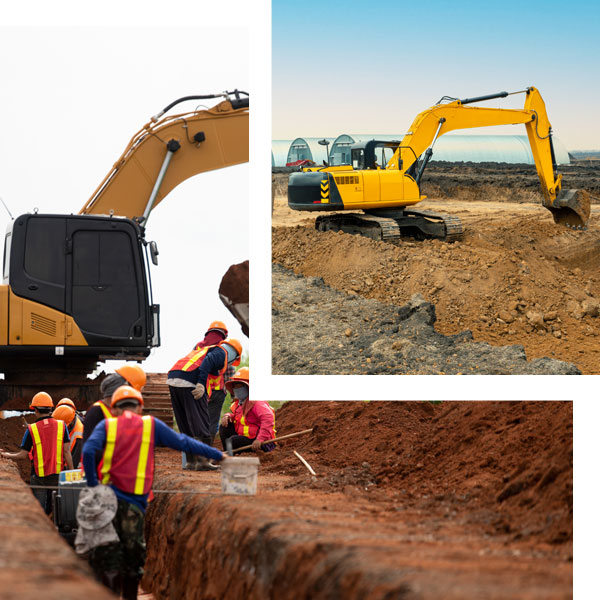 At P & S Concrete Removal, we work with highly qualified professionals who have extensive experience performing soil removal services in Geelong. And we have all the equipment necessary to dispose of all the waste generated on your site safely.
We have successfully operated in the local industry for several years. And we have established an ever-increasing customer base and reputation over the years by consistently delivering high-quality soil removal services in Geelong at competitive prices.
We treat your safety as our number one priority. And our team is constantly training to stay updated about the latest industry trends so that we can provide you with the best quality dirt removal services in Geelong.
Here at P & S Concrete Removal, our experts have the training and equipment necessary to carry out all scopes and sizes of dirt removals in Geelong across different industries. We strictly adhere to all safe disposal standards as specified by the Australian Government. Additionally, we are very cautious about the impact our activities have on the environment. Hence, we only use sustainable and environmentally friendly ways to lift, transport, recycle, or dispose of waste.
Do you have an upcoming project requiring soil removal in Geelong? Connect with our experts, and we will visit your site to get an assessment of the type and scope of your project. Based on our analysis, we will present you with a well-detailed dirt removal plan and an obligation-free quote outlining all the costs involved.
What to Expect When You Hire Us?
At P & S Concrete Removal, our team has the expertise and experience to tackle all types and sizes of soil removal and disposal projects. Our experts have a comprehensive approach to all our projects. Your questions, queries, doubts, and concerns are our top priority. Hence, we maintain transparency in all our methods. Here's what you can expect when you hire us to work for you.
Consultation
Our experts visit the site, on a pre-appointed date, for a thorough inspection. Following this, we provide you with a detailed quote and an expected timeline for the soil removal and disposal project.
Removing
The next step in the process is soil and rubbish removal. Depending on the size and type of the project, we use various tools and equipment for effective waste removal. Our team is very skilled and we employ the latest technology in dirt removal to ensure that we do not miss out on anything in this process.
Uplifting
The rubbish removed is heavy and therefore inconvenient to move manually. Moreover, some of the waste recovered can be toxic and thus require special handling. Our experts use specialised machinery to uplift the rubbish and send it for segregation.
Segregation
Depending on the nature of the waste, we segregate it. Instead of sending the waste directly to a landfill, we try to recycle as much collected waste as possible. We then send away the rest of it for proper disposal.
Transporting and Disposal
We employ sustainable & environmentally friendly methods for waste disposal. And we try to recycle most of the waste we recover. All the recyclable waste is sent for further processing, and what cannot be recycled is sent for disposal.
Affordable Soil Removal and Disposal Services
At P & S Concrete Removal, we employ the latest techniques for all our soil removal and disposal projects in Geelong. We employ a complete range of machinery that allows us to offer high-quality dirt removal services in Geelong efficiently.
Our experts have all the tools and technology necessary to remove all types of dirt. Moreover, depending on the specifications of your site, we also employ specialised machinery to remove dirt from tight-access areas and clear them.
Removing dirt and debris is not as straightforward as it might seem. Hence, we use a combination of specialised equipment and techniques to remove dirt and debris from your property for safe and efficient soil removal in Geelong.
At P & S Concrete Removal, we have the equipment and tools necessary to successfully execute soil removal of all scopes and sizes. Whether you need to move soil, rocks, unwanted vegetation, extra soil, or clay around your property, we can help. We have access to top-of-the-line equipment that can operate effectively on different types of terrains and topography, allowing us to provide you with premium-quality soil disposal services at affordable prices.
When working on a waste management project, hiring a reliable and efficient waste disposal service is key to ensuring your project gets executed safely and efficiently. This is because the generated waste might contain toxic materials that require professional handling. At P&S Concrete Removal, your health and safety are our top priorities. Hence, we employ cutting-edge techniques to collect and safely dispose of such toxic waste so there is no risk to you or your health.
Contact us today for more information on any of our services or for detailed excavator hire options.
At P & S Concrete Removal, we have built our reputation by attending to all our client's needs. We provide them with affordable services that exceed their expectations. Apart from soil removal and disposal services, we also offer a wide range of concrete removal and excavation services. Our extensive experience has taught us that the needs of each client are unique. And hence every project requires solutions that are customised to suit their specific requirements.
Concrete Removal
Over the years, we have built our reputation as one of the leading providers of premium concrete removal services at affordable prices. We use high-end machinery and employ the latest technology for concrete removal to ensure that the outcome exceeds your expectations. Our experts have extensive experience in dealing with breaking, uplifting and disposing of concrete from projects of all types and sizes.
Tight-Access Excavation
Tight-access excavation is a construction procedure often performed when you want a basement or install new upgrades or renovate your existing space. Since it involves excavating enclosed areas, it requires specialised machinery and highly skilled professionals. Our experts have a comprehensive and cautious approach to tight access excavation. We handle the projects efficiently and effectively and maintain all safety protocols to ensure your safety.
Where can I dump soil for free
In Geelong, there are a few options to consider for disposing of dirt for free:
Contact your local council.
Look for construction or landscaping companies in your area. They may be able to use it for their own projects.
Check with local community gardens or park groups, they may be willing to accept the dirt.
Where can I dump soil for free
Keep in mind that it's important to check with the appropriate authorities before disposing of any materials and ensure that it's legal to dump dirt in the area where you're considering doing so.
In Geelong, there are a few options to consider for disposing of soil for free:
Contact your local council, they may have designated areas where residents can drop off small amounts of soil at no cost or they may have a pick up service.
Some waste management facilities may accept soil for free, but you should check with them first.
Soil removal cost Geelong
The cost of soil removal in Geelong can vary depending on factors such as the amount of soil to be removed, the distance it needs to be transported. On average, the cost can range from $50 to $150 per cubic meter. It is best to get a quote from a professional removal company for an accurate estimate.